Thinkers of the New Left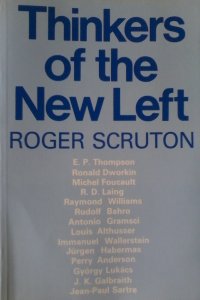 Autor:

Roger Scruton
Sinopse – Thinkers of the New Left – Roger Scruton
Fourteen of the thinkers most influential on the attitudes of the post-1960s New Left are analysed in this study by one of the leading critics of leftist orientations in modern Western civilization. The New Left thinkers discussed are E. P. Thompson, Ronald Dworkin, Michel Foucault, R. D. Laing, Raymond Williams, Rudolf Bahro, Antonio Gramsci, Louis Althusser, Immanuel Wallerstein, Jьrgen Habermas, Perry Anderson, Gyцrgy Lukács, J. K. Galbraith and Jean-Paul Sartre.
In addition to assessments of these thinkers' philosophical and political contributions, the book contains a biographical and bibliographical section summarizing their careers and most important writings. The author also contributes an introductory analysis of the nature of New Leftism and, as a conclusion to the individual studies, a critique of the key strands in its thinking.
Roger Scruton is Professor of Aesthetics at Birkbeck College, London, and editor of The Salisbury Review. He has written numeours books on philosophy and politics, including The Meaning of Conservatism, and is also regular columnist of The Times.
Thinkers of the New Left – Roger Scruton
A informação nesta página está disponível apenas para referência.
Você pode comprar ou baixar este livro online - amazon.com.br